Well its been a long night and I'm about ready to wrap up here and go to bed but I thought I'd cobble together a quick highlight reel for anyone not able to watch the first stage/section or whatever of the WACK auditions! So if your interested to find out how things went read on!

Right to start off the evening first, things were supposed to kick off at 9pm JST but ended up being just an hour of WACK group's MV's on rotation (build the anticipation lol) though to be honest they claimed technical difficulties so what you gonna do aye? Luckily I was joined by my good friends John, from well you should know by now your on his site, Garry from "IDOL IS SHiT" and the ever present MANiAC that is well…Maniac from Homicidols.com to help pass the time and get us ready to enjoy the roller coaster of a night that laid before us.
Eventually after some quick apologies and a few too many listens to "Promise The Star" (tho after tonight I'll never complain about hearing a song more then once, its when it gets to near 50+ times that things start to get kinda traumatic) stay tuned for that….Watanabe comes out and does a quick introduction (in his 'sexual fantasies' hoodie lmao) and they did a nice panning shot of all the girls participating in the audition/DEATHMATCH as they are calling it, some familiar faces join the newbie crowd with Pour lui, Aya, Aina and Atsuko making an apearance just to name a few.
Here is a quick group shot lineup of the current non WACK affiliated auditionees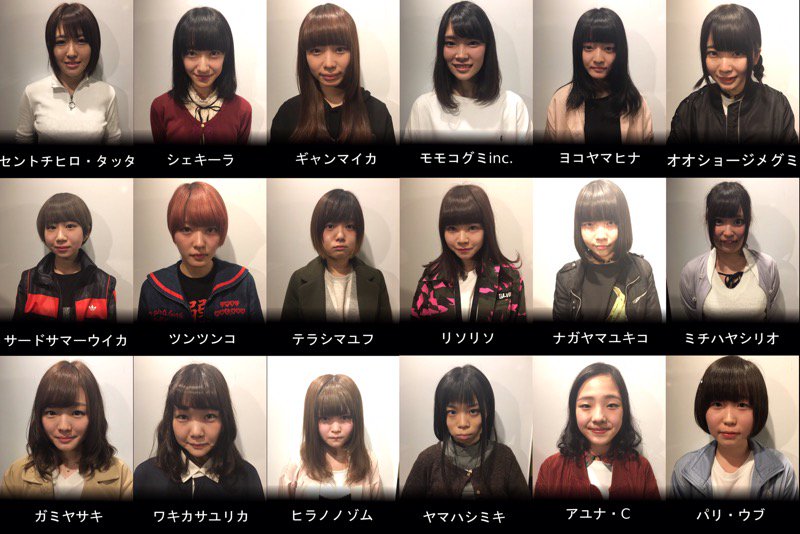 First up to the plate to sing their audition was Pour lui herself singing none other then "BiSBiS" and she set the bar pretty damn high as expected looking calm and relaxed like the seasoned veteran she is only looking slightly more tense and focused as she had to hit the notes of "BiSBiS"s demanding chorus (A demand that many that evening where unfortunately unable to fulfill).
Next up was the turn of the newbies, who as each took their turn there was ups and downs, a few standout performances here and there but overall after the near 50+ times we heard "BiSBiS"s opening verse and chorus through out the evening it all kinda became one big blur and at 6am right now my mind draws a complete blank for a name to say impressed me the most, I'll leave you to draw your own conclusions once the footage is eventually hosted somewhere.
For those of you wondering YES Aina did cover "BiSBiS" and YES it was pretty damn good as to be expected, is it a song written for her style of singing? no but did she do it justice on par with Pour Lui….I'd say so in my poorly worded opinion. Atsuko also put in a solid if almost fairly non-chalant performance of the song but the high register and long drawn out notes of "BiSBiS" are clearly not what shes accustomed to so we wasn't expecting to be blown away in all honesty.
Quick Bonus video of Aya from BiS covering her own song as you do
After "BiSBiS"s never ending barrage of high register chorus and long drawn out (often off key notes) they then switched over to having the newbies perform BiSH's cult classic "Hoshi Ga" which you'd think we'd all be used to hearing multiple times by now right? …well no not really! it still did not make it any easier especially with a few of the girls singing voices or lack of.
Pour Lui stepped up to give the performance we'd all been waiting for and gave the most clean cut rendition of "Hoshi Ga" I've ever heard, A far cry from Aina's smokey sultry tones and raspy crys we are used to hearing, but it was still refreshing to hear a new take on a time old classic I suppose.
THEN it was Aina's turn back up to the plate! Would she be singing "Hoshi Ga" like the others or would that have something more unexpected in store for her?…..turns out YES they did! They had her do a rendition of "Plastic 2 Mercy" by GangParade! If your wondering how that turned out? Fear not we got you covered on that one!
After all was said and done with the newbies Watanabe went on to list the "Wack audition song review ranking" which makes no sense in English as of yet (names are hard to translate yo! I'm still labelling them by look; topheavychan, hanako reincarnated, Knockoff Ayuni'D, Skeletor and the hordes of replica gozeela  and Gumi look alikes) so for now here is the Japanese ranking;
WACKオーデション歌審査順位
1位オオショージ・メグミ
2位ギャン・マイカ
3位ユメノユア(MVP)
4位ナガヤマユキコ
5位プー・ルイ
6位アイナ・ジ・エンド
7位ハシヤスメ・アツコ
8位モモコグミ.inc
9位ミチハヤシ・リオ
10位ガミヤサキ
After the girls had all eaten and chatted for a bit, including passing around a laptop showing the stream and reading a few comments here and there they all headed out of the studio and are now on a bus on route to the next stage/section of the WACK audition/DEATHMATCH, the camera is still rolling so if you haven't seen anything yet and want to start watching all you need is a niconico premium account and the link which I'll post here.
WACK auditions niconico stream
Also as a final bonus it seems the other BiS girls weren't just content with watching and decided to make their own "Audition Videos" to show everyone on Twitter just quite how much they've improved since it was them in the same situation not so long ago…